You Can't Afford to Ignore a Ticked Off Customer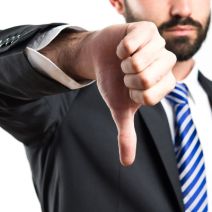 Having confidence in your ability to run your business is an important thing to have, but it doesn't matter how much confidence you have if your customers beg to differ. After all, without them, your business wouldn't be where it is today. This is why it's important to listen to what your customers say, and if it's not positive, you need to resolve the problem as quickly as possible.
The reason you need to fix problems with upset customers (sooner rather than later) is largely based upon how connected today's generation is thanks to the Internet. Users can share their experiences in the blink of an eye. If their reviews are good, then great; you just got a repeat customer. However, if they aren't happy with the services rendered, you can be sure that the Internet will hear about it, and the rest of the world by extension.
How Customers Build Your Business
As a business owner, you share a symbiotic relationship with your customers. They require a service, and you provide them with a quality solution to their predicament. Your organization can't survive if you have no customers, which means that you need to make sure that they're satisfied if you want to stay in business.
According to Vision Critical, it takes somewhere between 10-to-12 positive reviews to make up for one negative review. What's worse is that 80 percent of people won't buy products or services from a business with negative reviews. If there's anything that can cause the death of a company, it's a lack of customers and a lack of business.
Other statistics concerning unhappy customers include:
Customers are three times more likely to tell their friends about negative experiences, be it on social media or through word of mouth.
Businesses with an average of three stars or more on Google Places get 87 percent of all clickthroughs.
Restaurants in the Seattle area reported 5-to-9 percent increases in revenue gained following positive reviews on Yelp.
A Ton of Cash is Lost Due to Unhappy Customers
Because of the extremely competitive nature of business, customers who you can't satisfy will probably ditch you and find someone who can. You'd be surprised how much profit is lost every year to unhappy clients. Here are some rough statistics that explain how much unhappy customers can cost your business.
In the U.S. consumer market alone, there's around $1,300,000,000,000 on the line. Yes, you read that right: trillion, with a capital "T," and thirteen figures.
51 percent of customers will switch businesses or service providers due to poor customer experience.
81 percent of customers who switch businesses claim that the company could have prevented them from leaving.
Totaled together, that's approximately $537,030,000,000 lost by unhappy customers every year.
It's understood that customers who are satisfied with your services will generally contribute more cash (up to 14 times more) than a dissatisfied customer. In most cases, it's much more lucrative to retain your current customers than acquire new ones. It costs 6-7 times more cash to generate new leads than it does to keep your current customers. If you take care of your clients, they'll repay your business in kind with their continued loyalty to your brand.
What are some of your favorite ways to show your customers you appreciate them? Let us know in the comments.