Touch-Screen PCs: Hands-On Productivity or a Gimmick?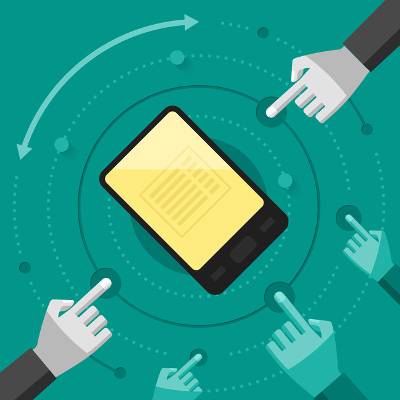 For the past decade, touch-screens have changed the way that we as a society touch technology, and have greatly increased the mobility of business in that short time. This trend started with the smartphone, then spread to the 10-inch tablet and larger tablets – perfect for watching YouTube videos, Netflix, or other media consumption.
Touch-screens have brought about a revolution of superior user experience, integrating touch-screen usability to the point that it is almost expected by the consumer. Now, the touch-screen has taken the next step in its evolution by converting personal desktops and laptops to touch-screen technology. They have all of the power of a normal laptop with the convenience of a touch-screen display, but will these devices be what you need to improve your business's productivity?
The laptop itself has worked wonders for businesses looking to increase productivity in the workplace or on the go. Being able to work while away from the office is just far too good to pass up, especially when the limitations of a laptop aren't much different from a conventional desktop (for work purposes, at least). The laptop is a productivity machine, while tablets are generally more useful as a browser or media outlet with their integrated mobile apps. What these new touch-screen laptops have to offer is a productivity machine with easy-to-use touch controls that includes the best of both technologies.
The leading hardware industries have all foreseen the shift toward touch-screen technology, and the newest operating system softwares are generally capable of taking advantage of the touch screen. For example, Microsoft's Windows 8 and 8.1 are both easier to navigate with a touch-screen monitor, though a desktop version of this software could be both static and cumbersome after prolonged use. Most users wouldn't mind giving the old mouse a try after ten minutes when their arm grows tired. Some touch-screen laptops, however, can switch to a tablet and back with relative ease, making these hybrid models exceptionally useful at no additional expense to the consumer (or their arm muscles). Resolve I.T. knows better than anyone how difficult it is to find quality hardware, and that some choices aren't for everyone. There are numerous options and specifications to consider, and not all touch-screen devices are created equal.
The silver lining to these devices is that, in addition to their simple touch-screen capabilities, these systems also have options for those who prefer the old-school laptop PC controls. Resolve I.T.'s trusted IT experts take great pride in our ability to provide business owners like you with an educated opinion when it comes to figuring out what kind of technology suits your company's needs. For more information, or if you would like to speak with one of our technicians concerning your technological needs, call us today at (978) 993-8038. We'll dazzle you with countless solutions that will help increase your company's productivity.