Office Workers Still Prefer Using a Traditional Phone Over Mobile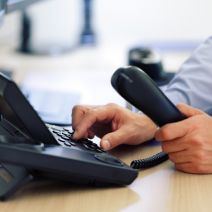 Take a moment to look at your desk telephone and contemplate its usefulness. When was the last time you used it for day-to-day operations? Do you even use it anymore, or do you rely on more recent communications solutions like Voice over Internet Protocol, and the smartphone? Some might argue that the telephone is an antiquated technology for the modern office, but recent studies show that despite its disadvantages, it still has an edge in the office environment.
There are a number of reasons why workplace phones haven't been completely eliminated in favor of the smartphone and VoIP. For one, contrary to popular belief, people still want to separate the workplace from home, but the main reason that office phones are still around is because folks prefer using their office landline to conduct business. A survey from RingCentral, performed in May 2015, studied the ways in which 505 United States workers communicate within the office. The results were somewhat surprising: 65 percent of the workers would rather use their office phone to conduct business while only 30 percent preferred to use mobile devices for calls.
Now, consider the prevalence of the smartphone in today's workplace environment. You'd be hard-pressed to find anyone who doesn't use their device for work purposes, like answering phone calls or sending emails. Suddenly, that 30 percent seems kind of strange, especially with millennials and their newfangled technology now taking up a considerable portion of the workforce. Curtis Peterson, the senior vice president of RingCentral, suggests that the younger generation isn't as comfortable working with telephones as seasoned professionals. In fact, according to another survey from TollFreeForwarding.com, only 6.5 percent of people between the ages of 25 and 34 are comfortable using a telephone, and would rather resort to other methods of communication, like messaging or email.
Still, it seems that the office telephone isn't going anywhere anytime soon, for the sole purpose that it's still somewhat preferred as a telephony solution. Therefore, it's imperative that your business takes full advantage of your voice communications solution, whether it be with your office desk phone, or your Voice over Internet Protocol client. Your business might find that you can be so much more productive with a unified communications solution, including VoIP, instant messaging, and video chat.
Despite the clear popularity advantage that traditional communications have, VoIP has a clear-cut advantage in the fact that it's much easier to make changes to your service plan. Thus, replacing your classic telephone solution with VoIP is a fantastic way to start cutting unnecessary costs, especially when you consider how cable companies tend to package multiple services together that aren't necessarily needed. Additionally, it's difficult to make changes to your traditional telephone infrastructure on a whim, which makes growth challenging at best.
Integrating a VoIP solution can alleviate many of the issues that plague modern businesses by offering scalable and predictable solutions that are effective for managing your business's communications strategy. For more information, give us a call at (978) 993-8038.