Introducing the 3-2-1 Formula to Effective Data Backup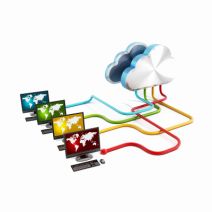 While there are several options your business has for a backup solution, how much thought have you really put into it? As one of the most mission-critical functions of your IT infrastructure, you need to be sure that you're getting the best solution for your money. More importantly, you need to know that you can rely on your solution to get you through the most trying times, like after a disaster or data theft.
Taking a 3-2-1 approach to your backup policy is a simple way to get comprehensive continuity for your data infrastructure. InfoWorld describes this concept as having three copies overall of your organization's data, with two of these being in different formats, and one of them being stored off-site. This is difficult, if not impossible, to do with tape backup, which some businesses still run. However, there's a much easier way to handle data backup in the form of cloud backup.
With cloud backup, your business can take advantage of safety and security that's on the level of large enterprises. Unlike tape, which is limited due to the time necessary to perform a comprehensive backup, the cloud allows for multiple snapshots of your data taken throughout the workday. This gives you the peace of mind that your information is comprehensive and redundant. The cloud even makes recovery automatic and as easy as can be, making it ideal for both storage and recovery options.
There are two main issues of cloud data backup that most businesses get stuck on: the technical details, and the price of a complete infrastructure overhaul. Many small and medium-sized businesses feel that they can't afford this solution, or they don't have the manpower to ensure that all of the mission-critical technology is available. Being able to back up your files on demand is an essential part of today's online business world, especially with hackers running amok. So, what's a budget-minded SMB to do?
One solution is to call Resolve I.T. and let us explain our managed service offerings to you. Our solutions are designed to optimize operations and increase productivity on all fronts. In fact, our Backup and Disaster Recovery solution is one of our most important services, especially today when hacks can happen when you least expect them. It's designed to take multiple backups of your data throughout the workday, and sending copies to both an off-site data storage, and in the cloud for easy access.
One of the best features of our BDR solution is its practical neutralization of costly downtime. When your server goes down due to a hack or other natural phenomenon, you'll ordinarily lose access to any data stored on that server. However, a BDR device has the ability to immediately take the place of your server if it goes down for some reason, and it can deploy your backed-up data in a moment's notice. This keeps your business running, even when your technology isn't, giving you ample time to find an adequate replacement.
To make backup this easy, all you need to do is call (978) 993-8038.