How Technology Can Help Your Green Campaign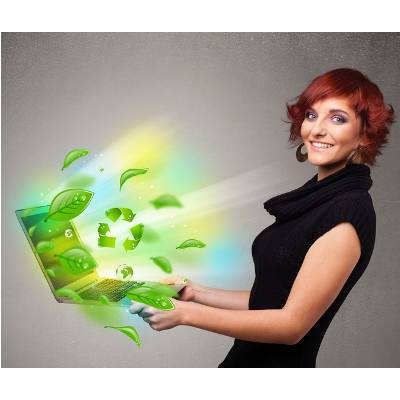 One of the greatest trends to hit business culture within the last few years has been going green, aka, being environmentally conscious. Companies that adopt green culture end up helping the Earth, improving their brand reputation, gaining tax credits, and attracting new green-minded customers. If you're considering going green, one of the easiest places to start is with your technology.
Obviously, there are many more seemingly direct ways to influence your community with your green campaign. For example, you could host a trash cleanup day to both contribute to the health of the environment and to get your brand out in the public in a great way. But let's be honest; picking up trash can be pretty disgusting. Not to discourage you from running a trash pickup campaign, but we want to show you how you can help the environment without getting your hands dirty by using remote technology.
Go Green with Remote Support
It doesn't take long to figure out that the traditional way of delivering IT support is not contributing to the health of our environment. With old-school break-fix IT support, computers would break, and IT technicians would load their gear into a van and come to resolve the issue. After the problem is solved, the technician jumps back into the van and drives away. You may be disgusted if your break-fix IT guy told you how many gallons of gasoline he uses when he's out on call.
Alternatively, Resolve I.T.'s remote IT support service can handle most IT problems without driving to any physical location, reducing environmentally-deadly factors associated with excessive automobile operation. Our clients enjoy the peace of mind of allowing their IT guys to leave the van in the parking lot, so as to contribute to their green campaign. Obviously, remote support won't be able to handle every fix, but our remote monitoring and maintenance service typically detects and takes care of issues before they even arise. This ensures that your technology runs smoothly and experiences less problems, saving you money and contributing to your green campaign.
Go Green by Working from Home
Similarly to how you can aid environmental efforts by taking IT break-fix vans off the road, you can also take advantage of the same remote technology to allow your employees to work from home. Consider this: The average commute to work in the U.S. is 25 minutes each way. If you multiply this figure by the number of days in your work week, and then multiply that number by the number of staff members who commute, you can then figure out how many gallons of gas are used by your staff each week. You may be appalled at the result. You can significantly reduce your company's carbon footprint by limiting the amount of driving required of your employees to get to work.
To put it simply, any time that you're able to not use a vehicle for any given purpose, you contribute to the health of the Earth (and its residents). Taking advantage of remote IT solutions from Resolve I.T. would be a perfect contribution to your company's green campaign. To learn more about how technology can aid your green campaign, give Resolve I.T. a call at (978) 993-8038.