Colonel Sanders Might Be a Technology Genius Thanks to KFC's Bucket/Printer [VIDEO]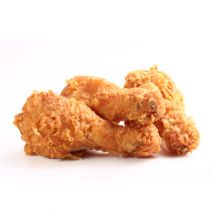 Human ingenuity never ceases to amaze us. This whole information technology revolution has pushed access to information to levels that any person that lived before the advent of the computer could never have imagined. What's more, the establishment of the Internet of Things has made it so humans even have remote access to the goods they own. So when we first saw the technological marvel that KFC had in store for the Canadian chicken consumers, we weren't so shocked as excited that we've reached the next step in humanity's trek into the future.
The marketing geniuses at KFC have recently struggled employing an engaging Colonel Sanders, replacing Saturday Night Live veteran Darrell Hammond, with another SNL vet, Norm Macdonald. No matter whom KFC tabs as the southern gentlemen in white, nothing will compare to their Canadian colleagues' idea to create a piece of marketing material that is sure to stay with consumers. For the diamond anniversary of KFC in Canada, they have created the KFC Memories Bucket.
What is the KFC Memories Bucket?
KFC Canada has created a chicken bucket that comes equipped with a color printer. The idea is that you buy a bucket of chicken for your friends, family, or (gulp) yourself, and then you take some pictures of you enjoying the meal, and you can print them out right there and then. Nothing describes a good time like taking pictures on your $500 smartphone after you just plowed through a drumstick and a thigh of Col.'s Original Recipe. This video merely cements the practical (and fulfilling) applications of the Memories Bucket
According to the online technology magazine, The Verge, this is just one in several attempts to use technology to drive their marketing initiatives.
The company's Japanese chapter raffled off a chicken-themed keyboard, mouse, USB stick, and sets of 3D-printed earrings as part of a social media promotion last fall, and its German outpost gave customers a thin, rechargeable Bluetooth keyboard in place of the usual grease-sopping paper sheet this May. The company's experimentation goes beyond physical products, too. If you have a minute at lunch, you can play ColonelQuest, an 8-bit romp through Colonel Sanders' life released in May. The Memories Bucket may raise the bar on ridiculous poultry products.
KFC's Memory Bucket comes with a photo printer in the bottom, that produces Polaroid-style photos. The printer is accessed by bluetooth, making it probably the weirdest thing on the Internet of Things, but at least it executes its practical use (as a vessel for fried chicken) commendably. Can you think of other bizarre technological roll outs from over the years? Join the conversation below in the comments.