5 Ways to Get a Grip on Mobile Devices in Your Office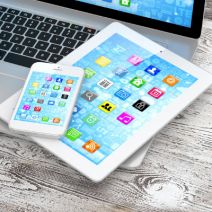 Did you know that a whopping two-thirds of U.S. adults own a smartphone? This figure is still climbing and the presence of employee-owned smartphones has dramatically changed the face of office. Businesses that aren't prepared for this major influx of devices are setting themselves up for some major problems.
Employees bringing their devices to work is an IT trend known as BYOD (Bring Your Own Device). In order to make mobile devices in the workplace work for you, you're going to need to implement a comprehensive BYOD strategy. If you don't, then your IT network will be a virtual Wild Wild West of sorts as different devices across the entire technology spectrum access your company's sensitive data. If some of these devices contain malware or data is downloaded to an employee's device, and the device becomes lost or stolen, you'd be toast. Crises like these can easily be prevented by having a solid BYOD strategy.
To be sure, the benefits of having mobile devices in the workplace make BYOD worth the effort; employees that use their own devices are more innovative, more productive, and are generally happier about their job. To take advantage of these benefits, you're going to want to cover all of these bases with your company's BYOD strategy.
Identify potential risks: Unsecured devices can easily contain viruses and malware, which can damage your system. Plus, an employee-owned device without privacy protections can pose the problem of hackers stealing the data on the device, which would essentially be stealing your data. By taking into account and protecting your network from every possible risk, you'll be able to use mobile devices with confidence.
Define a clear BYOD policy: As is the case with any policy, the clearer you are, the better. A solid BYOD policy encompasses your entire IT infrastructure, along with every possible access point. Additionally, if you're able to clarify your IT goals and what you're looking to achieve with mobile devices, then you can draft a BYOD policy that can maximize these goals.
Consider regulations and compliance issues: If confidential information, like medical records, aren't stored properly and get leaked by way of mobile devices, it can carry a hefty fine from laws like PCI and HIPAA. Concerning data of this sensitive nature, your BYOD policy needs to follow these laws down to the letter.
Keep track of used devices: Every device that accesses your network needs to be accounted for. For example, you can't have random devices logging on, accessing files, and then disappearing with that information. If an employee loses a device with company information on it, or even sells it to a third party, then you would have no idea who would get to see your data.
Train your staff: When it comes to BYOD, educating your staff is key. If they're on board with your BYOD policy and fully understand the ramifications of breaking it, then you will be able to rest assured that all of the devices popping up around the office are helping your organization, not hindering it.
As you can imagine, BYOD policies are not a one-size-fits-all policy for every business. Each business has different needs, IT goals, and security risks. Therefore, in order to get the most comprehensive BYOD strategy for your company, you're going to want to consult with the IT professionals at Resolve I.T.. We know what questions to ask and what to look for in your IT network so that your organization can take full advantage of this trend.
Additionally, we have great tools at our disposal, like our mobile device management solution that can help you control what all of the devices are doing on your network, like adding permissions regarding which files these devices can access. To implement an airtight BYOD strategy for your business, call Resolve I.T. today at (978) 993-8038.