4 Ways Cloud Computing Can Benefit Any Business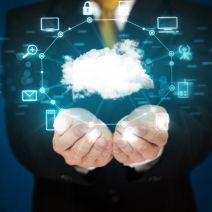 Is your business using the cloud in 2016? If not, you should know that it's a great tool that's designed to help your business better manage its data and application deployment. However, the cloud can be used for so much more, and it's quickly becoming an indispensible tool for SMBs.
Here are four ways that cloud computing is changing the way that small businesses handle their technology.
Data Storage
The cloud is a great way to share data amongst your entire organization, and deploy it on a per user basis. Businesses can store their information in a secure, off-site location, and the cloud allows them to access it through an Internet connection. This eliminates the need to host your data internally, and allows your employees to access information from any approved device through a secure connection, effectively allowing for enhanced productivity when out of the office.
Application Deployment
Your business relies on having various types of applications and software solutions available for use. If you lose access to these programs, you could be facing lost productivity and downtime, which could directly influence your bottom line. If you're using the cloud to deploy your applications, any Internet-connected device can access the applications you need to keep work moving forward at a respectable pace. This opens up all sorts of opportunities for cost savings, including providing your team with the ability to work from anywhere.
Virtualization
The cloud can be an effective tool for virtualization, which is a great method for cutting costs for your business. By virtualizing physical IT components, you're abstracting them for use in the cloud. This means that you're storing them in the cloud. Businesses can virtualize servers, desktop infrastructures, and even entire networks for use in the cloud. Doing so eliminates the physical costs associated with operating equipment, allowing you to dodge unnecessary costs and limit the risk of hardware failure. For example, you can deploy all of your users' desktops virtually from the cloud so you don't need to rely heavily on more expensive workstation technology, and can instead use thin clients. Simply log into your company cloud and access all of your applications and data on virtually any Internet connected device.
Backup and Disaster Recovery
A BDR device relies on the cloud to ensure quick and speedy recovery deployment. The BDR takes snapshots of your data, which are sent to both a secure, off-site data center, and the cloud. From there, you can access your data or set a recovery into motion. If you experience hardware failure, the BDR can temporarily take the place of your server, allowing you ample time to find a more permanent solution. The cloud is crucial to the success of a BDR device, simply because the cloud is where the BDR stores an archive of its data.
With so many great uses for the cloud, only one question remains: how will your business use the cloud in 2016? Resolve I.T. can help you get started. To find out more about your options, give us a call at (978) 993-8038.