What's the Best Way to Store Your Company's Data? Find Out!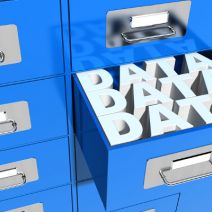 March 31st is World Backup Day! This occasion begs the question, "How much thought have you put into where your data is stored?" If you haven't thought through your data storage options, then your files may be located in several different places. This could make accessing your data difficult, as well as jeopardize your network's security. To get you started, let's take a look at these four data storage options.
Storing Your Data Locally
The most common way for businesses to store their data is over their internal networks, like on in-house server units and workstations. Storing information locally offers companies the most control over their data, and with the right protections in place, it can be a very secure option. However, as is the case with every data storage scenario, if security isn't given enough attention, then storing data locally can actually put your information at risk. One advantage of utilizing an internal network for data storage is a quick and reliable connection that's not dependent upon the Internet. Although, this is at the financial expense of having to maintain your own IT infrastructure, which includes workstations, cables, server units, routers, and more.
Storing Your Data in the Cloud
Storing data in the cloud is an option that's grown tremendously for businesses of all sizes. The advantage of the cloud is that it offers organizations anytime/anywhere access to their data, which is super convenient when dealing with multiple office locations and remote workers. Plus, the fact that you don't have to maintain your own IT equipment will save you a boatload on your operating budget.
On the control side of things, storing your data in the cloud makes you dependent upon the policies of your cloud service provider. This is why it's important to find a cloud provider that best suits your company's data needs, instead of just going with the first provider that comes along. The same can be said of cloud security. If you're dealing with sensitive information or data that requires strict security protocols, then you're going to want to work closely with your cloud service provider to cover your bases.
Storing Your Data Off-Site
Off-site data storage is similar to storing your data in the cloud. You can access it from a remote computer, and with a reliable connection, it will be there when you need it. One of the most popular uses for off-site data storage is backing up data. For example, if a disaster strikes your company's office and damages your in-house IT infrastructure, then you're going to be glad that your data is off-site and safe.
Backup and Disaster Recovery
One great tool that takes advantage of storing your data both in the cloud and locally is a Backup and Disaster Recovery solution. BDR takes multiple snapshots of the data on your network and sends them to the cloud where they can be quickly retrieved, should you ever need it. Plus, if your server unit stopped working for any reason, BDR can then serve as a temporary replacement while the server issue gets resolved. This kind of convenience is possible thanks to BDR's ability to securely store your backed up data off-site, and have it be available for when you need it the most.
For more information about data storage, the cloud, and BDR, give Resolve I.T. a call at (978) 993-8038.