What's it Take to Have Your Idea See Potato-Salad Success? [VIDEO]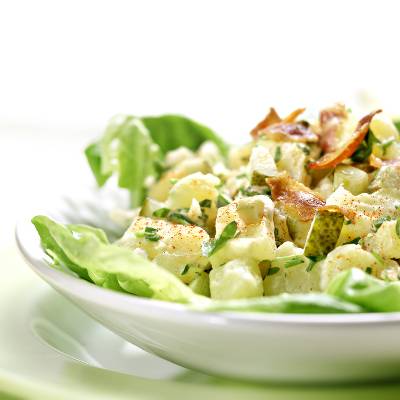 Got a great business idea but lack the capital to make it happen? Many startups are looking to the Internet to find the funds they need to get their project off the ground. Known as crowdfunding, this tool presents entrepreneurs a chance to find supporters in unlikely places, and even find wild potato-salad-like success!
With crowdfunding, people post their ideas to a fundraising website. Essentially, they're pitching their plan to the entire world. The proposal includes a goal on what it takes to make the project happen, and people that donate (known as backers) are promised different levels of rewards based on how much they pledge. There are three crowdfunding sites in particular that see the most traffic: GoFundMe, Indiegogo, and Kickstarter, and there are new crowdfunding websites started every year–each one with its own unique take on raising money.
By posting your project to a crowdfunding website, you're already guaranteed to find an audience that you wouldn't have found otherwise–an audience that's literally searching the Internet with credit cards in hand, looking to give money to a startup that catches their fancy. With a decent amount of knowledge about how crowdfunding works, your project can be funded by sweet Internet moolah.
Oh yes, and then there's luck. Lady luck plays a role in how crowdfunding projects turn out. Sometimes, a well thought out and perfectly executed project fails and gets no traction. Other times, a silly project will "go viral" and inexplicably take the Internet by storm, raising hundreds, or even thousands more times the amount than what was originally asked for. An example of this kind of wild crowdfunding success was recently experienced by Zack Danger Brown for his Kickstarter project "Potato Salad."
Brown's expressed purpose for the project is, "I'm making potato salad." The hook was that he was making the salad dish for the first time and was humorously turning to the Internet for help with funding. Brown asked for $10. Last Saturday, his 30-day Kickstarter campaign came to a close. Contrary to any known form of logic, Zack raked in $55,492, from 6,911 backers. That's a lot of potato salad! What's Zack planning on doing with his haul of cash? He's putting much of the money into helping nonprofits combat hunger and homelessness, as well as putting on a festival which he's calling "PotatoStock 2014." At this festival, there will be live music, family friendly activities, and oh yes, generous portions of potato salad.
The potato salad project saw crazy success after "going viral," but it's unreasonable to expect your crowdfunding project to achieve this level of success. When it comes to going viral, there are forces at work that nobody can understand. To help you meet your crowdfunding goals here are four tips to consider:
Clearly Define Your Goals and Rewards
People are anxious to give to a good project, and they're more apt to give if you're clear about what you're doing. Be specific with your goals and try to make your rewards exciting and special. When people give to crowdfunding, they're looking to participate in the excitement of starting something new. Capture that excitement and make your rewards extra special and exclusive to the crowdfunding project.
Curb Your Enthusiasm
Don't approach your project with potato-salad expectations. Know the risks and be realistic. Even the potato-salad guy went into his project believing that $60 would be the absolute maximum he would walk away with. According to Kickstarter, only two percent of all successful campaigns have raised more than $100,000, and 73 percent of successful campaigns have raised $10,000 or less. Realistically, if you need piles of money to get your project off the ground, a traditional loan for the bank may be a better fit.
Do Your Homework
Study successful crowdfunding projects and take notes for your own project. What about these projects got people excited? How was the project promoted? What rewards were the most popular? With crowdfunding projects, doing something unique is appreciated and encouraged, but that doesn't mean you can't borrow from the successful ideas of others to get your unique idea off the ground.
Make a Plan
Once you have compiled a list of good ideas, make a step-by-step plan on how to announce and promote your project. How are you going to use social media? Are there special-interest online forums you can promote your project on? What kind of updates will you post to thank people and encourage them to help spread the word? You've got 30-to-60 days to reach your goal and you're going to want to take full advantage of this time and do something to promote your project every day.
Crowdfunding is a powerful tool that allows entrepreneurs to bypass the middle man and take their ideas directly to the people. Hey, you never know if your great idea will find success until you step out and give it a go. If you're sitting on a great idea, don't let it waste away. Take advantage of crowdfunding to see if anybody else wants in on the ground floor!