Tip of the Week: You Need to Manage Your Company's Online Reputation–Here's How to Get Started!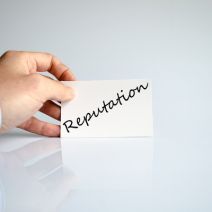 Two things are true today: 1) having a good reputation is critical to the success of any organization, and 2) the Internet is a vast network where seemingly anything goes. How then can you make sure that what's said online about your organization isn't hurting your reputation? By taking some basic online reputation management actions, you can stay one step ahead of the virtual haters and keep your reputation intact.
Before we walk you through how to do this, let's start by establishing the fact that every modern business owner needs to know what Internet users are saying about their company to some degree. For example, what if an unhappy customer or former employee was so upset that they took the time to spread rumors about your business? Neglecting this virtual world is like shooting yourself in the foot, especially if something ugly said about you goes unchecked. Or, you could be missing out on a golden marketing opportunity if people online are singing your praises and you fail to capitalize on their goodwill.
Start With Google
Taking advantage of Google Search is a great place to start. If you've never searched for your business on Google Search before, then you may be surprised at what you find. For the most part, a general Google Search will yield basic information about your business, like your website, your location on Google Maps, your Google Plus account, along with your company's information listed on various business listing services (like Yellow Pages). Depending on how active your company is on social media, you may also see your various social media accounts appear on the first or second page of your Google search.
While knowing these basic Google search results is a great place to start, and it may even yield some reputation management issues, you'll most likely have to dig deeper in order to find out, specifically, what people are saying about your business. You can do this by refining your search. Instead of searching Google just for the name of your business, get more specific by including the name of your city. You can also try searching for your company's name plus whatever product or service you specialize in. This might land you on some review websites that you previously did not know about.
It can also be helpful to get even more specific with the timeframe of your search. For example, in Google Search, go to Search Tools > Any time. From here, you can narrow down your search to include results from the past hour, or all the way up to the past year. You can even go to Custom range… to narrow down your search to specific dates. By being more specific with your search, you'll be shown results that would have otherwise been buried dozens and dozens of pages in with a generalized search.
Additionally, you can take advantage of Google's email option where Google notifies you every time they index a new search result for whatever it is you're searching for, like your company's name or what your business specializes in. You can do this by going to https://www.google.com/alerts, entering what you want to be alerted about in the form, and then confirming your email address. Taking advantage of Google Alerts is a great way to manage your company's reputation by catching and responding to issues early on.
Pro tip: one way to narrow down your search is to focus on past times that your company gave reason for people on the Internet to talk about you. Relevant time periods to search for include; after a major sale, during your company's "busy season" (if you have one), while you had a major promotion take place, after your business got covered by the local news, after you parted ways with a problem employee, etc.
Be Sure to Monitor Your Social Media Accounts
Social media is designed to get people to interact with your brand. If you're not paying close attention to social media activity regarding your company, then your reputation might be taking a hit without you even realizing it. In addition to monitoring the activity of your social media accounts (like people commenting on your posts), you can search social media platforms for content related to your business, much the same way you would perform a Google search.
Remember, in the social media realm, it's natural to come across users who don't much care for your company. However, one benefit about social media is that it gives you a public stage to reply to these comments. If the complaints against you are fair and you respond reasonably, then the public will see this, appreciate your quick action and genuine concern, and your reputation will remain intact. Although, be careful to not engage with "trolls." These are Internet users who love creating rumors and chaos just for kicks. In some cases, you're able to report trolls, which could lead to them getting their accounts blocked.
Additional Online Reputation Management Tips
Utilizing Google and social media can go a long way in protecting your company's online reputation, but the suggestions we shared are just the tip of the iceberg. Online reputation management is actually a big business in an of itself, which means that there are many more tools, tips, and best practices that you can take advantage of. If you want to know more about online reputation management, here are 7 tips from Sprout Social to point you in the right direction.
1. Get customers to share positive reviews & experiences.
2. Connect with consumers and solve problems.
3. Find creative ways to tell your company's story.
4. Monitor your presence and direct the conversation.
5. Give your employees an avenue to share content.
6. Rethink how you use social media.
7. Remember the power of social media.
One last tool that you can take advantage of to boost your company's online reputation is positive comments left on your website. Speaking of that, we encourage you to share your thoughts about this article, or your experiences with Resolve I.T. in the comments below. And remember, the best way to improve your company's online reputation is to get the word out on the Internet about how great you are. If you believe in what you're doing, then this simple task should come naturally!