Tip of the Week: How to Protect Yourself While Shopping Online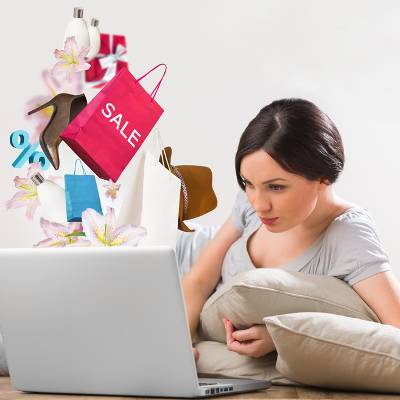 Everybody loves a good holiday, and this season is the perfect time to buy a tech lover a great new gift. However, it's important to always practice proper security precautions. All it takes is one slip-up to hand over personal information or even your identity to a hacker. It's imperative that you follow proper security protocol when dealing with online shopping, especially if it's for your business.
Last year, during the several weeks leading up to the winter holidays, the massive data breach at Target revealed the personal information of up to 70 million customers to hackers. Maggie McGrath of Forbes magazine refers to it as "the nightmare before Christmas," due to the overwhelming amount of information that was compromised. If anything, this should prove that the holidays are a prime time for hackers to take advantage of the ridiculous amount of shopping that's done. While it falls to the retailer to guarantee the security of its systems, you should also practice proper precautions, especially while shopping online.
Keep It On the Down-Low
One of the most important parts of keeping your financial information safe online is to not share it out anywhere which can be seen as public. Even if you like to think your personal email is private enough, it's still not a good idea to send anything personal through it. If a hacker were to compromise the system, they would have access to all of your email, including the personal information. This also includes giving away more information than necessary, like your birth date and Social Security number. There's no need to put that information anywhere unless it's absolutely necessary.

This should be common-sense, but it's always best to keep your personal information off of social media, even if your profile is set to private. Just because you take proper precautions to keep your profile safe from hackers doesn't mean that all of your friends do, too. Similarly, always make sure that you are only entering personal information into secure websites. You can generally tell if a website is secured by checking its security certificate. Look for the "https" at the beginning of a URL. If it's secured, it should be safe to continue.
Avoid Public WiFi When Possible
If you need to purchase new equipment, be it for the holidays or for your business, it's best to do it from a secure connection rather than through a public WiFi connection. This is especially important if you do a lot of traveling. Even if it's tempting to use that airport WiFi, you should avoid doing so, mainly because you can't tell who else is using that connection. For all you know, a hacker could get through your security measures and compromise valuable company information.
Resolve I.T. can help set you up with a Virtual Private Network (VPN) to significantly improve your security while traveling. Think of a VPN as a network which only you and your team can access. This allows for maximum security while you're out and about this holiday season.
Keep Your Devices and Browsers Up to Date
Before you even think about buying anything online, it's important that your devices and browsers are up to date. If not, you might be entering your information into unsecured devices through vulnerable software. Of course, nothing is perfect, and vulnerabilities are being discovered all of the time. Therefore, it's important to always update your operating systems and software with whatever patches are released, as they are issued. This is the only way to guarantee that your systems are completely up to date.
Resolve I.T. can offer your business our remote maintenance solution, which allows our techs to remote into your systems and patch known vulnerabilities or apply system updates. This takes the responsibility for doing so off of your team and lets them focus on other important aspects of your business.
Your safety and security while online is of the utmost importance, and Resolve I.T. can help your business integrate proper best practices and help you stay updated on all of the latest security threats and developments this holiday season. For more information, give Resolve I.T. a call at (978) 993-8038.