Technology and Life Insights from "The Most Connected Human on Earth." Part 2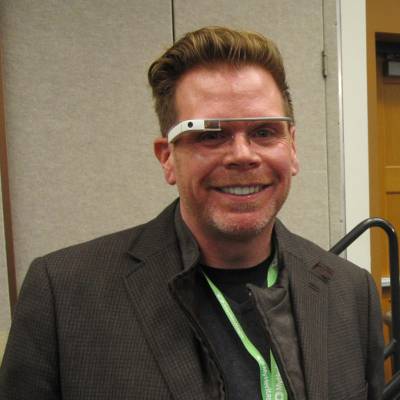 In our previous blog article, we introduced you to Chris Dancy, aka "The Most Connected Human on Earth." We told you Chris' story, how the former IT manager lost his job due to corporate downsizing and then turned to quantitative technology to find relevance in an ever-changing work environment. Today, Chris utilizes hundreds of different technologies and systems as part of his "quantitative life existence." In part two of our interview with Chris, he explains how you too can be a connected human.
Most people who appreciate technology are open to the idea of using more of it in their lives if the tech can deliver the benefits it promises. However, other people may be uncomfortable at this level of technology integration due to its ability to broadcast so many personal details. Chris refers to one's life shared over the Internet as their "augmented self," and he will be the first to advise users to carefully prune which collected information is shared and not shared.
Like all technology, a person's "augmented life" isn't a goal in and of itself – rather, it needs to be strategically presented in such a way that it will positively influence one's "offline life" (aka real life). For Chris, taking advantage of these hundreds of technologies and systems is a way to ensure a successful future. Wired Magazine explains, "Dancy doesn't think that all tracking is necessarily positive, but he's fatalistic about the future. Even if workers reject more Orwellian surveillance from employers — or companies determine these measures to be counterproductive — individual workers will likely use self-tracking to gain a competitive edge."
How Can You Take Advantage of Quantitative Technology?
After considering the benefits of quantitative technology, you may feel ready to plug into the revolution. However, there's so much personal tech and quantitative gadgets on the market that getting started with the data-driven lifestyle can seem daunting. To help you out, Chris shared with Resolve I.T. practical advice on how an average tech user would go about adopting a data-driven lifestyle.
"Start at home. Put a nest thermostat in your house. Understand how the thermostat uses weather and behavior to self adjust. Watch it change as the climate changes. Watch it learn." A home thermostat like this, that's connected to a user's smartphone and collects data to automatically adjust temperatures, is a great first gadget to begin retrofitting your home with connected technology.
"Then get a fitbit. Wear it all the time, but only look at the data every two weeks. Then use that data and compare it to your schedule, see if you can find patterns." For Chris, the quantitative lifestyle comes with health benefits. In an interview with FOX Business, Chris revealed the using technology to monitor and track his health helped him lose 100 pounds!
"Stay off the 'news hype' 'tech fetish' cycle. There will always be something new and cool to talk about with peers and friends. Learn who you are and what you do. Work in 2020 is about awareness of information and how people will live a data-driven lifestyle."
Chris utilizes hundreds of systems, and obviously, some are more useful than others. Therefore, we posed Chris the question, "If you had to limit yourself to five, which five would you choose?" Chris selected his top five techs for us, and if you're looking to get started with quantifying your life, these are a must.
1. A fitness tracker (anything on the market, like Fitbit Flex)
2. Wireless scale (anything on the market, like Fitbit Aria)
3. Automatic (a car sensor)
4. Cube Sensor (an environmental sensor)
5. Evernote
How Can Your Business Plug into the Quantitative Revolution?
Resolve I.T. can help equip your business with the technology it needs to succeed in the future. We asked Chris Dancy what are some traits that an organization should look for when selecting an IT company to help equip and advise them with the implementation of new technology. To help sort out the forward-thinking IT companies from the break-fix operations, Chris advised businesses to ask about three specific tech terms. "What is your time frame for 'location aware,' 'proximity based' and 'wearable' technology integration. If they can't answer at least one, change IT providers today."
Location Aware – Devices that use technologies like GPS to deliver specific information based on your location.
Proximity-Based Technology – A wide variety of devices that connect over WiFi, Bluetooth, or NFC (Near Field Communication) connections to deliver analytics and information.
Wearable Technology Integration – Devices like smart watches, Google Glass, and fitness trackers, that makes Internet-connected technology even more mobile.
Resolve I.T. is well-versed in the latest tech trends that can provide your business with the competitive edge. Don't sit on the sidelines and have the technology revolution pass your business by. Call us at (978) 993-8038 to equip your company to be "The Most Connected Business on Earth!"
Learn more about Chris Dancy by checking out his website: http://www.chrisdancy.com/