SharePoint Brings Dynamic Collaboration to Your Business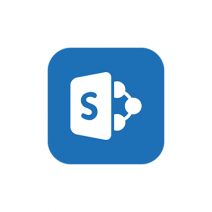 Every business needs a platform they can use to securely store, organize, share, and access the mission-critical information needed to keep operations running smoothly. SharePoint is Microsoft's intranet solution for enterprises of all shapes and sizes, and it's worth looking into for your data needs.
SharePoint is part of the Microsoft Office 365 family, which means that it works seamlessly with all of Microsoft's productivity applications. Yet, SharePoint isn't a Microsoft-exclusive product. For example, it easily integrates with popular enterprise software from third parties. The integration of a valuable tool like Yammer, a corporate-style social network, is a great example of this.
Additionally, SharePoint can be accessed by non-Microsoft web browsers like Chrome and Firefox (and of course, it works great with IE and Edge). In fact, this is probably SharePoint's strongest selling point; the fact that it can be accessed from the web browser of virtually any Internet-connected device. This is possible thanks to SharePoint's ability to be hosted on the cloud, or on-premises (in your own IT infrastructure).
Another advantage of SharePoint comes from its versatility. As explained by the Microsoft support page, here are four ways that SharePoint can benefit your business.
SharePoint Online. A cloud-based service, hosted by Microsoft, for small and large businesses. Instead of installing and deploying SharePoint Server on-premises, organizations can subscribe to an Office 365 plan, or to just the SharePoint Online service. Using SharePoint Online, your employees can create intranet sites for the purpose of sharing documents and files with colleagues and customers.
SharePoint Foundation. SharePoint Foundation is available for on-premises deployment. You can use SharePoint Foundation to create a variety of sites that let your team collaborate on documents, lists, calendars, and other mission-critical data.
SharePoint Server. Organizations have the option to deploy and manage SharePoint Server on-premises. SharePoint Server also offers additional features and capabilities like Enterprise Content Management, business intelligence, enterprise search, personal sites, and a news feed.
OneDrive for Business folder sync. A desktop program that allows you to sync offline versions of your files to a folder on your computer.
The primary benefit of SharePoint is that it allows everyone on your team to share corporate data with each other. SharePoint is essentially the ultimate team collaboration tool for enterprises. Here are just some of the ways it can benefit your operations:
Share documents and files with employees and partners.
Host internal training guides.
Manage and organize projects.
Keep commonly updated documents in order.
Build and maintain repeatable processes.
Use it as a single, central location for everything going on internally.
Do you think that SharePoint is the intranet solution that your company needs? Whatever data-sharing platform you go with will affect operations in a major way. Therefore, you're going to want to make sure that you consult an IT expert before making such an important decision regarding your company's mission-critical technology. Give Resolve I.T. a call at (978) 993-8038 to have a discussion about your data-hosting options, and to find out if a solution like SharePoint is right for you!