Consume Your Media On-the Go this Summer with these 3 Tablet Tips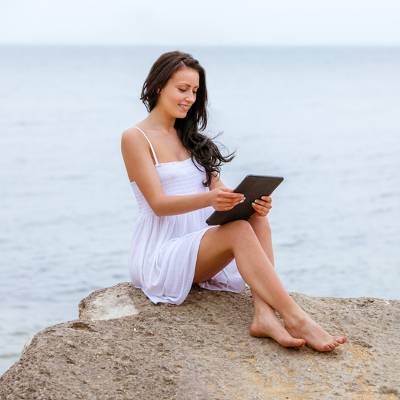 It's summertime, and the living's easy… unless you're a small business owner. The heat and great weather is the perfect excuse to take off for a while and use that vacation time you've been saving up. But if you're still worried about leaving your business behind, the mobile technology of a tablet can help you keep in contact and still enjoy your vacation.
One of the best things about a tablet is the fact that it is designed for media consumption, and you can saturate your vacation with music, YouTube videos, and more. However, if you feel you need to bring a tablet with you on vacation, there are some things you should be aware of that will let you take advantage of its full potential.
Keep Your Tablet Safe from the Elements
Your body might be resistant to the crystal-clear waters and silk-like sand, but that doesn't mean that your tablet is, too. What would happen if a breeze picked up and kicked sand in your direction? Not only would you get a mouthful of gritty sand, but you'd also likely experience problems with your tablet. Sand isn't compatible with your tablet, and neither is water, especially in excess.
To prevent your vacation from meeting a watery grave, modern science has produced a spectacular tool that can keep your tablet safe from the elements. It is called the "plastic baggie," and it can now be found at any of your local retail stores for a modest fee. You can use the tablet through the bag with little risk of actual damage, but you still might run into problems if you decide to take a dip in the water with your tablet. Not even the mighty plastic bag can save it from floating off with the tide, if you're not careful!
Avoid Mediocre Hotel WiFi with a Virtual Private Network (VPN)
You'll probably be staying in a hotel with wireless Internet access, but just because it comes with the room doesn't mean it's safe. And if the wireless service is substandard, your access to the wondrous Internet will be significantly limited. You should especially be careful about the security of these networks, as they are typically not well-monitored or secure. As a business owner, you use your tablet for more than just media, so you can't afford this risk.
A Virtual Private Network (VPN) from Resolve I.T. can help mitigate this issue. You, and only you, will have access to a private network designed to keep you safe from outside threats. You can know with confidence that your network is as safe as can be from hackers and other malicious online elements.
If you are worried about having bad wireless service while on the move, you can always try a wireless hotspot-activated device that uses your mobile data plan. This basically turns your mobile device into a wireless router that you'll be able to connect your laptop and tablet to. This means you won't have to rely on someone else's network, and it gives you more privacy as well as a more reliable connection.
Don't Forget – You're on Vacation!
This is the most important pointer of all. Just because you can connect to your workplace while on vacation doesn't mean you have to. You're on vacation, so enjoy it. Take a load off and have some fun. You've earned it! We're sure that your business won't be reduced to a pile of embers without you there.
Be sure that you don't turn your tablet into your vacation, though. Spend time in the nice outdoor weather, and don't forget to put down the tablet from time to time. The entire reason you are on vacation is to escape the monotony of your workplace's technology, right? So relax, and enjoy some time separated from it.
If you take advantage of these three tips, you're practically guaranteed to have an enjoyable, media-enriched vacation. For more pointers on how to take full advantage of your technology, contact Resolve I.T. at (978) 993-8038. By the time we're through with it, your technology will work for you, instead of the other way around.